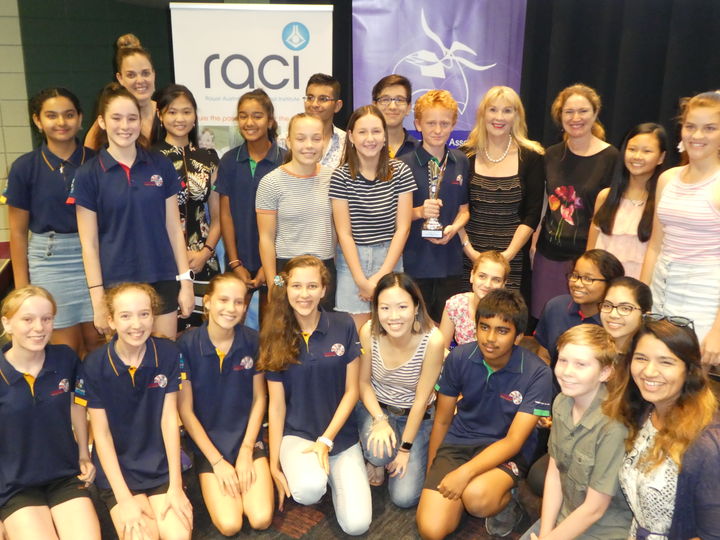 On Thursday 25 November, science students from Darwin Middle School attended The Young Territory Science Competition awards evening at Charles Darwin University.
Students from Darwin Middle School entered The Young Territory Science Competition in the categories of Scientific Communication, Scientific Inquiry, Multimedia, Creative Posters, Innovations and Inventions.
The students, through a combined effort, won the ROWE Scientific Award for the second year named after Reg Rowe who is a great supporter of Science Education across Australia.
Students presented their entries to the judging panel, during the Schools Science Week Fair in conjunction with the National Science Week held in August of each year. Many of the entries were Teacher-Directed however the majority of entries were designed by the students within the guiding criteria.
We would like to congratulate all the students who entered the competition and the following students who won in their respective categories:
Ella Lauritsen (Multimedia & Science Communication)
Vanessa (Multimedia & Science Communication)
Georgina Roy (Science Communication)
Saleena Kaur Chandhok (Model)
Eshaal Awais, Rosy Michael, Eirin Mahs-Gore, Mae Cowan (Innovations and inventions)
Mitchell Timms (Model)
Ayisha Ferozkhan, Alysa Ho (Model)
Ty (Model)
Mikaela (Multimedia)
Aydar Zarifullin, Farok Al-Ibrahim (Multimedia)
Scarlett Wilmore (Multimedia)
Shakthi Vimal, Sayaan Islam (Multimedia)
Jordan Tremlett, Charlotte Reisinger, Ella Lauritsen (Multimedia)
Reka Nemeth, Ayesha Khan, Alishba Saeed (Multimedia)
A special mention to Miya Millington from Year 7 whose entry has been forwarded to the next level for BHP Science and Engineering Awards. The top twenty-six finalists will be invited to an all-expenses paid, four-day educational science camp and the prestigious BHP Foundation Science and Engineering Awards ceremony to be held in Melbourne in February in 2019.