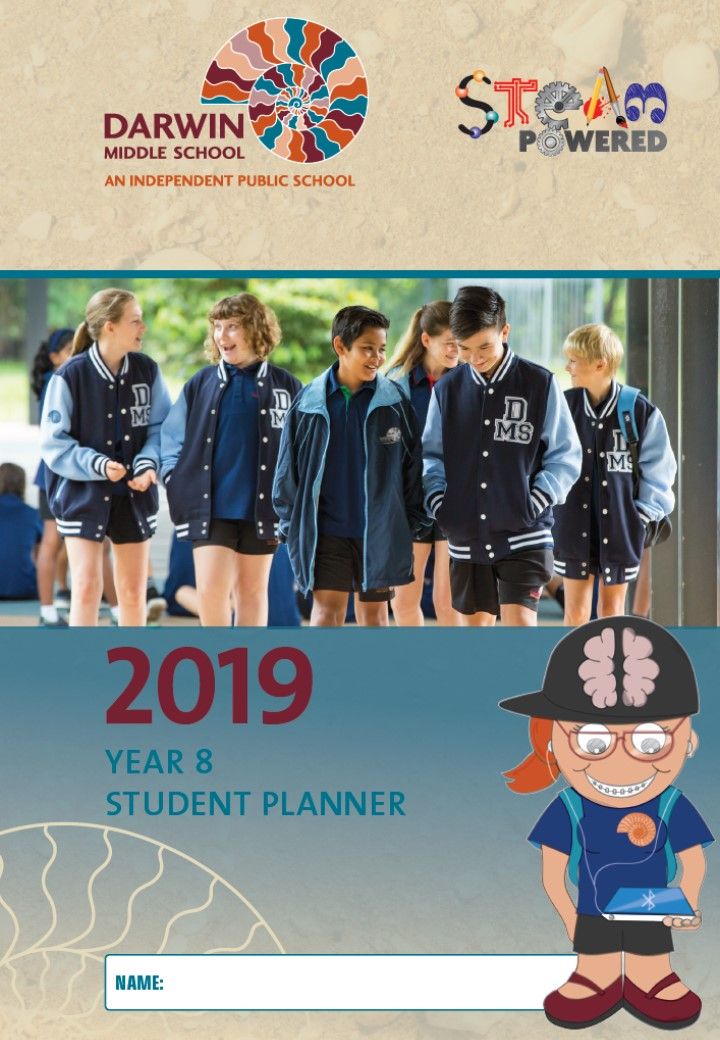 Darwin Middle School is extremely proud to launch its Wellbeing Program that empowers teachers with resources, knowledge and skills to develop confident, capable and resilient students. The program is tailored to suit each Year Level with age appropriate weekly activities.
To support the delivery of the program we have custom designed diaries for each Year Level. Each student will be required to have their diary with them every day to participate in the weekly wellbeing activities as part of their Roll Group.
There are six elements of wellbeing (see diagram) which underpin the program and each element is equally important in building student confidence and overall social and emotional wellbeing.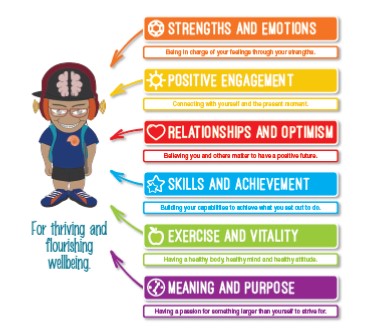 Each week a 'wellbeing element' will be the focus across the whole school, however the actual wellbeing activities are age appropriate and different for each Year Level.
Week 1, the focus was Positive Engagement, Effort and learning about Brain Growth. The students learnt, after every experience the brain rewires itself and this is a lifelong process called neuroplasticity. There are millions of cells called neurons in the brain which are connected to form brain pathways. Information is sent along these pathways via electric messages and the more you do something the more connected the neurons become. This is why practice and study is so important to build stronger and faster brain pathways.
Week 2, the focus is Relationships and Optimism, Acts of Kindness and learning about Belonging, Family and Friends. The students will learn about feeling a sense of belonging with their family and friends. This can be the greatest wellbeing builder filling you with gratitude and warmth. When you enjoy a healthy and positive state of wellbeing you want to 'do good to feel good'.
Each week the activities will feature a resilience builder focusing on emotions and feelings relevant to the weekly wellbeing elements.
The diary was part of the book pack you may have purchased. If you did not purchase the book pack, please purchase the diary available for $17.50 at the Front Office or through the school shop on our website. It is a requirement that all students have their diary at school every day.
We look forward to bringing you more updates soon about the Darwin Middle School Wellbeing Program.