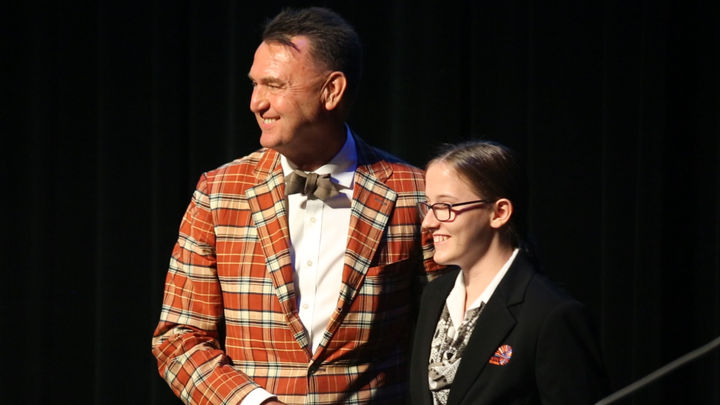 The 2018 Academic Awards Ceremony is an event to congratulate our students for their outstanding academic achievements and to recognise their talents. Our School Captains, Pruella Anderson and Georgina Roy were Comperes for the event held at Darwin Entertainment Centre on 5 December. The evening included awards for high achieving students in Years 7, 8 and 9, Chief Minister's Literacy Awards, Sports People of the Year Awards, Platinum Good Standing Awards, DMS Citizenship Awards and Australia Day Student Citizen of the Year Award, just to name a few.
Throughout the evening there were several magnificent performances from the Darwin Middle Band conducted by Ms Tracy Etherington. Other performances included Ballroom Dancers, Flute Trio, Clarinet Quintet, Saxophone Quartet, Guitar Ensemble and a wonderful performance from the Darwin Middle School BEAT Dancers.
Our congratulations go to Olivia Anderson who won the Year 9 Academic Award and Northern Territory Board of Studies Award, Olivia also delivered the 2018 Valedictory Speech.
Our Principal, Marcus Dixon shared his 2018 reflections and concluded the evening with a round of congratulations to all winners for their outstanding achievements and contributions to Darwin Middle School.
We wish all students and their families a happy and safe holiday season. We look forward to welcoming students back to school on 29 January to commence the 2019 academic year.